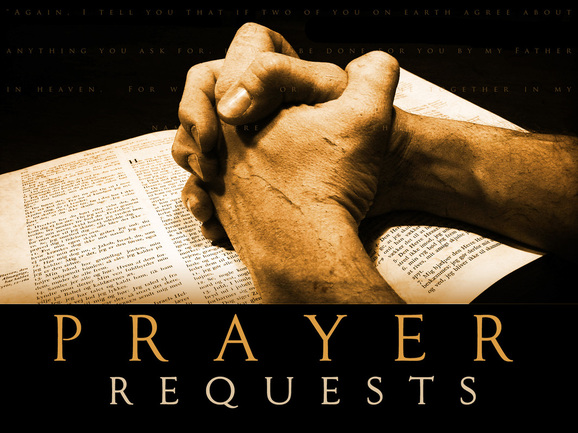 If you would like to submit a prayer request, please fill out the form located to the right. You do not need to fill out each field, but the name of the individual you wish prayers for would be helpful. Please feel free to leave only as much information as you prefer. The Prayer Request Information box may be used to provide specific information regarding the prayer request. If you would like to speak with the Pastor about your prayer request, please leave your name and phone number in the Prayer Request Information box after the information you have provided regarding the prayer request. The "Submitted by" box must be completed by entering your name in order for the form to be transmitted.




At Truth Lutheran Church this week we are praying for the following:

Allie Jo Wasson - Pray for help with chronic health issues.

Brent Running - Parkinson's

Randy Sprague - infection

Dena Carlson - Cancer

Steven Baumgard

Dale Halgrimson

Laura Lenk - health issues

Joe Schlegel - Cancer

Liam Schmid - cancer

Marion Roseland - cancer

Bobby Larson - cancer

Jim and Judy Parsons

Wendy Smith - Cancer

Stewart Sawdey

Ken Jezek

Jean Wizennegger

Bob Neros

Lilly Glaser

Wanda Sawdey

Zoar Lutheran Church, Tofte, Minnesota


Scripture verses that offer comfort during grieving.
Click each verse title to be taken to a new page with the entire passage.
Psalm 34:18
– The LORD is close to the brokenhearted; he rescues those whose spirits are crushed.
Psalms 31:9
– O' Lord have mercy on me in my anguish. My eyes are red from weeping; my health is broken from sorrow.
Psalms 147:3
– He heals the broken heartened, binding up their wounds.
Matthew 5:4
– Blessed are those that mourn, for they shall be comforted.
John 14:27
– I am leaving you with a gift-peace of mind and heart! And the peace I give is not fragile like the peace the world gives. So don't be troubled or afraid.
Psalm 46:1
– God is our refuge and strength, a very present help in times of trouble.
John 16:33
– I have told you these things so that you will have peace of heart and mind, Here on earth you will have many trials and sorrows, but cheer up, for I have overcome the world,
1 Thessalonians 4:13
– Brothers we don't want you to be ignorant about those who fall asleep: or to grieve like the rest of men who have no hope.
Jeremiah 31:13
– I will turn their mourning into gladness. I will give them comfort and joy instead of sorrow.